Finding entertainment that won't break the budget.
Written by Matt Wegner
Founder and Lead Counselor, Matt Wegner Coaching, www.financialexcellence.net
Many families struggle with spending time together, either from lack of time or lack of money. In fact, I often hear people complain that if they cut back on their budget, their quality of life and time spent with their family will suffer. I couldn't disagree more. If you make an effort to plan in advance, you can give your family the good quality time they need with activities that may be simpler than you think. We call it "frugal fun", and, it's often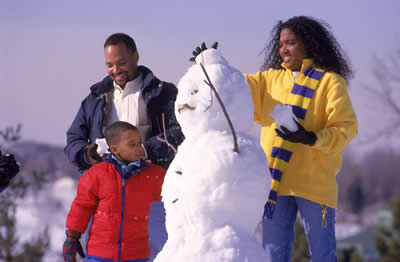 these simple activities that help develop the strongest bonds between family members. In her book Frugal Families, Jonni McCoy highlights some inexpensive ways to have fun as a family. I've highlighted some of her tips, plus added a few from my own family's playbook:
– Have a family "Game Night" where you play board games or card games.
– Play with the kids at the park.
– Check out some movies from the library or the discount movie section (or borrow from some friends).
– Go camping, even if it's in the back yard.
– Have a campfire and make some s'mores.
– Play in the snow.? Make a snowman, have a snowball fight, go sledding, etc.
– Have a treasure hunt or scavenger hunt.
– Play hide and seek with the neighbor kids.
– Go for a walk or bike ride together.
– Go swimming in a local pool or lake.
– Go roller skating or ice skating on family night.
– Have a picnic at the park or in the back yard. If the weather's bad, have a picnic on the floor inside.
– Go fishing at a local lake.
– Host a pot luck get together with the neighbors.
– For those rainy days, play "I Spy" or "20 Questions" with the kids inside to pass the time.
– Take a virtual tour of world famous museums online.? You can find plenty of sites by doing an internet search for virtual museum tours.
– Fly a kite together.
– Volunteer at a soup kitchen or for a charity.
– Volunteer to do some yard work at church.
– Have a paper airplane making contest.
– Read books together.? Take turns reading aloud to each other.
– Draw pictures with sidewalk chalk.
– Visit some free local attractions.
– Make sand art.
– Attend a free concert or play.
– Do a puzzle together.
The list goes on and on but we'll stop there. The point is, with a little creativity you can find a lot to do that brings out the simple (and inexpensive) fun in life. You don't have to have a lot of money to have fun. You just have to have a lot of heart. This year, make one of your goals to spend more quality time with your family without increasing your budget. You'll be glad you did!
– Matt Wegner